According to the United Nations (UN), if current trends continue, by 2030 the number will grow to 400 Million
Why are children not is school? This is an epidemic that needs to be addressed.
                                       Child Labor
There are an estimated 151.6 million children who are classified as working in child labor conditions, of which, 114 million are under the age of 14.  Almost half of them, 73 million children, work in hazardous or life-threatening labor conditions.
This epidemic is spread throughout the world.
Africa – 72.1 million;
Americas – 10.7 million                                   
Asia/Pacific – 62.1 million
Middle East – 1.2 million
Europe/Central Asia – 5.5 million. 

Many companies globally have been accused of using child labor in some form, such as: Nestlé, H&M, Philip Morris, Microsoft, Sports Direct, British American Tobacco (BAT), Apple , New Look , JTI , Hershey's, Cadbury, Kraft , GAP , Nike, Adidas , Walmart , Victoria's Secret , and Disney.
Human Trafficking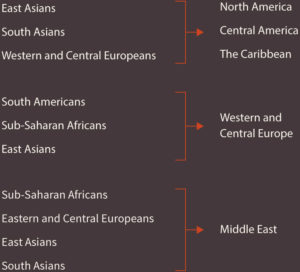 Ten million children are sold into child and human trafficking rings (80% used for sexual exploitation, and 19% involves labor exploitation). Children make up almost one-third of all human trafficking victims worldwide – 63% are girls and 38% are boys. It is estimated that 76% of transactions for sex with underage girls start on the Internet.
This epidemic is spread throughout the world.
Africa – 18%
Asia/Pacific – 56%
Europe (central and southeastern) – 7%
Latin America 9%,
Middle East 3%.
                                          Displacement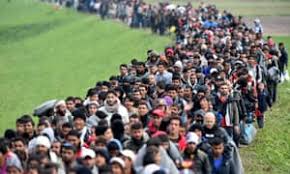 31 million children were forcibly displaced from their homes due to natural disaster and political unrest. Most children are from Africa and Asia, but a rising number is coming from Central America.
61% are displaced from natural disasters and 39% are displaced from violence and conflict in their country. About 31 people are newly displaced, in every minute of every day.
                                           Geography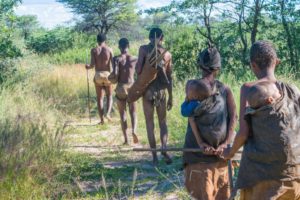 68 million children live in remote parts of the world and do not have access to schools. According to UNICEF, 25% of children who are of age to attend school in rural zones are not educated versus 16% of children living in urban areas. In particular, girls suffer with this statistic the most. Those who live in rural or remote areas are affected the most because of gender segregation as children get older.
With the lack of  government Investment in education, most of these children will be unable to read or write with any fluency, or to complete basic numeracy tasks. Unfortunately, most people believe these children do not have a future in education and do not fight for their cause politically.
WHAT DO YOU THINK?
We believe everyone has value and deserves the foundation of a quality
education. We work to help children trapped in war zones, refugee camps,
and otherwise living in places where getting a proper education is difficult and
living in poverty seems inescapable. We give these children a voice.
Our project, World Top 20, wants to find these children, protect them, and help prepare them for their future.
Our mission is to give children access to education and the tools that will enable them to escape poverty. 
We accomplish this by providing technical support to various organizations that are equally invested in protecting children from being sold or kidnapped into human trafficking.
However, in order to fulfill our goal of providing education and a future to children, we need YOUR help.
Please join us in making education achievable and attainable for all throughout the world. All donations are charitable ad tax deductible.
A Smarter World…A Greater World: the World Top 20 Project