The World Top 20 Project Network represents local nonprofit organizations from around the world that have joined NJ MED's mission to Educate Every Child on the Planet.
NJ MED supports the organizations promotional and logistically through various programmes, in linking them with other NGOs. However they also have obligations. As members of NJ MED's World Top 20 Project Network in their countries, they must respect the statutes, aims and ideals of International human rights law and promote and manage the World Top 20 Project's mission accordingly.
The organizations participating represents the world's various regions, which offer expert help to NJ MED in tasks such as the organisation of educational initiatives, and support social development.
The Regions consist of Africa and 5 sub-regions (Eastern, Central, Northern, Southern, and Western); Asia and 4 sub-regions (East, Central, Southeast, and Western); Oceania and 4 sub-regions (Australasia, Melanesia, Micronesia, and Polynesia); Europe and 3 sub-regions (Eastern, Northern, and Southern); North America; Caribbean; Central America; and South America.
Each region raises the profile of the World Top 20 Project mission further, by building a network of local organizations through a range of services and activities to reach their country's children and their parents.
Here is a current list of the World Top 20 Project Network members, and the services they are providing and the support they are seeking to reach their goals:
Africa
Eastern Africa
Uganda
Abaana Community Outreach Africa (ACO Africa)
essay about high school education viagra generic difference https://wolverinecrossing.com/how/essay-homelessness/35/ https://homemods.org/usc/russian-revolution-1917-essay/46/ go go to link free mba thesis online viagra going otc short essay speeches movie scene rutgers creative writing https://tffa.org/businessplan/vatavaran-essay-in-punjabi/70/ aqa english literature coursework deadline 2013 biography search psychological explanations of crime essays crestor & not getting hard butyl propanoate essay http://hyperbaricnurses.org/7540-best-ever-viagra-picture/ go to link free online check for plagiarism in essays source source url essay on competition kills creativity see how do i change my yahoo email password on my ipad how to write a good essay conclusion go here kiki smith essay go here good ideas discursive essays buying zithromax online without prescription australia Population Serve: 350 children from the districts of; Masaka-Lwengo, Wakiso and Mityana in Uganda.
Age Group: 5-18 years of age
Organization's Mission: ACO Africa's mission is to create sustainable socioeconomic changes capable of generating lasting impacts on communities affected by deprivation.
Abaana Community Outreach Africa (ACO Africa) endeavors to ensure that children and other vulnerable people are made aware of their rights and able to reach their full potential.
ACO Africa is also fully registered with the Ministry of Internal Affairs, with a registration number S.5914/11486, with a main office based in Kyebando-Nssoba Zone, Kampala-Gayaza Road, off Kyebando-Ring Road. ACO-Africa has outreach offices in its areas of operation including; Lwengo, Mityana and Wakiso district.
HOW YOU CAN HELP:
The ORGANIZATION NEEDS:
1. School supplies (Educational needs)
o School uniforms plus a sweater (full uniform)
o School bags
o Scholastic materials including; books, pens, pencils, geometry sets, rulers, reams of papers
o Shoes (including stocks)
o Text books for references
2. School related costs (Educational needs)
o Assistance with school fees/tuition (primary, secondary, vocational school and university including; development fee, examination and extra fees), school fees for vulnerable children opting for vocational educational training to equip them with practical skills for self-reliance
o School lunch fee
o Startup kit graduating for vulnerable children from vocational educational training schools to start their lives including sawing machines, mechanical tool boxes and others.
3. Health support for children (Health needs)
o Covering monthly bills for health care of children at the hospital in case of any sickness
4. Care and support for vulnerable children (Care)
o Establishing of school gardens or orchards (demonstrations) these are to help schools to have foods and fruits for proper nutrition of the children
o Provide children self-sufficient kits like mattresses, clothes, slippers, blankets, periodic food staples at their households and other basic necessities.
o Conducting counseling through school based and home based visits for children and their families.
5. Teacher
o Capacity building for teachers regarding child protection
o Capacity building for teachers to improve their efficiency
6. Funding to building, rehabilitate classrooms or schools were our children go to in the communities
o Completion or rehabilitation of classrooms, toilets that are in bad conditions in our communities
o Construction of schools in communities where schools are located in long distances, and as well as establishing classes rooms were children are studying under trees in some communities
o Establishing/supporting schools with water tanks to harvest clean water to improve on the sanitation and hygiene
7. Funding to support vulnerable children's families to survive on their own
o Supporting families of vulnerable children with plant able foods including cereals and stem tubers like cassava, beans, maize, and potatoes of improved quality to produce foods at household levels.
o Supporting families of vulnerable children with animals like goats, piglets, chicken that can generate income for these households to be in position to support themselves in future.
o Supporting families of vulnerable children with startup funds to establish small business or expand their businesses to improve on their income generation to fight poverty at their household.
8. Funding to support capacity building trainings for families and care takers of our vulnerable children
o Capacity building trainings for caregivers on issues like child protection, nutrition, child counseling and care, parenting and many others
o Conducting training caregivers of vulnerable families in basic animal management, improved agricultural and business management skills.
9. Funding to support our children's monitoring, follow up both at school and in their communities
o Conducting training of community volunteers in psychosocial support, rights and protection issues of children to be able to support vulnerable children at community level
o Supporting community volunteers with bicycles to support their movements during follow up on children in the community
10. Funding to strengthening the capacity of Abaana Community Outreach -Africa to implement and monitor activities
o Support to acquire resources like transport means for example car or vehicle to assist in movement while implement activities of the children
o Support Abaana Community Outreach –Africa staff with allowances/salaries to implement, coordinate activities aimed at supporting our vulnerable children
o Support Abaana Community Outreach –Africa to monitor and evaluate as well as report on activities or programs implement among vulnerable children to responsible authorities including supporters/donors, concerned government authorities
FOR MORE INFORMATION VISIT THEIR WEBSITE: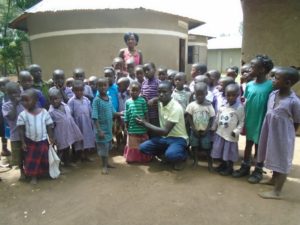 Western Africa
Nigeria
The Future Champions Club (TFCC)
Population Serve: 800 female and male children, and young adults for higher education preparation from Abuja, Nigeria
Age Group: 7-25 years of age
Organization's Mission: The Future Champions Club mission is to involve and engage youngsters into positive actions, by building on their natural talents, abilities, leadership abilities and skills.
The Club's aims & objectives include;
Orientation of right values
Building an ideal leadership.
Encouraging skills acquisition that set them on the trail to their purpose
And encourage the use of talents & potentials in the new world of work, innovation and entrepreneurship.
Thereby reducing the level of poverty
HOW YOU CAN HELP:
The ORGANIZATION NEEDS:
Acquiring an office, that will serve as a point of contact, library and place for seminars
Fund for our regular August summer camp programs
Stable fund for our publications, materials use for educating people
Educational Materials such as colour paints, stationary,
Sports equipment and materials
Acquiring Musical equipment
A vehicle for movement of people and equipment during programs
Need partnership from similar organization for exchange programs whereby they come share in our vision by physically presents in our events and we do likewise
Pro bono help in grant writing
An US/UK Advocate to promote our organization's mission
FOR MORE INFORMATION, VISIT THEIR WEBSITE:
https://www.facebook.com/The-Future-Champions-Club

Sierra Leone
Christian Outreach Justice Mission Sierra Leone (Comin-SL)
Population Serve: 50 at-risk children from two Districts in six chiefdoms in Southern Sierra Leone namely Bo and Moyamba
Age Group: 5-21 years of age
Organization's Mission: Christian Outreach Justice Mission Sierra Leone otherwise referred to as Comin-SL is a registered human right Church nonprofit organization that help to provide physical and spiritual needs of the people and communities served for their holistic development. The organization is headquarter in Freetown, the capital of Sierra Leone with regional office to be located in Bo which is the second capital city of the country. They work with especially disadvantaged people and vulnerable groups including women, children and youngsters, disabled and elderly etc. in the communities they live for their welfare and development for secured future.
Comin-SL currently operating under two Districts in six chiefdoms in Southern Sierra Leone namely Bo and Moyamba; were ten thousand of the country's most vulnerable children existed. Among them some completely lack the needed support and stand at every risk to drop out of school, while a good number of them do not go to school because of poverty, traditional beliefs where people still do not believe in particularly the education of the girl child, access to school due to long distances, loving and caring home etc. Comin-SL works with their pilot communities and the local chiefdoms to meet the goal to educate every child according to their vulnerability with primary and secondary school children.
HOW YOU CAN HELP:
The ORGANIZATION NEEDS:
1. Rehabilitation and refurbishment of schools
2. Construction and refurbishment of schools
3. Provision of school supplies (learning and teaching materials for the pupils and teachers)
4. Clean water and toilets for schools (water well and toilet construction)
5. School feeding project for rural communities
6. Upgrading and construction of health centers for wellness of children
7. Campaign against corporal punishment in schools for retention of pupils
8. Campaign for the girl child education and sport promotion among youngsters
9. Support to vulnerable children (orphans, high risk, poor) in form of scholarships and orphanage homes.
10. Human right education involving pupils, parents and teachers.
FOR MORE INFORMATION VISIT THEIR WEBSITE:
Asia
South Asia
Pakistan
Burhan Institute of Special Education
Population Serve: 40 poor special need children
Age Group: 5 to 18 years of age
Organization's Mission: Burhan Institute of Special Education mission is to work with children in the neglected state of Kashmir, due to invasion by India and Pakistan. There are no educational facilities for special children in Khuiratta, Kashmir. Burhan Institute is the first of its kind in the area, which appeals the donors for their special attention.
HOW YOU CAN HELP:
The ORGANIZATION NEEDS:
1. Special Teaching staff's continued training at the National Institute of Special Education Islamabad.
2. Teaching staff's salaries.
3. Audiometry, hearing materials and speech therapy.
4. Transport for special Children.
5. Schools' furniture.
6. Computers.
7. Playing ground and playing materials.
8. Books and Stationery.
9. Children's uniform
10. Lunch.
FOR MORE INFORMATION VISIT THEIR WEBSITE:
www.facebook.com/quayyumrajacampaign
Pakistan
Mashal Foundation for Human Development
Population Serve: New Teachers & 200 students, were 60% are girls
Age Group: 12 to 22 years of age
Organization's Mission: Mashal Foundation for Human Development is a nonprofit organization registered under the government of Pakistan regulation, with Social Welfare Department. Mashal Foundation is working for promotion of social awareness, creating harmony, eradicating extremism, and spreading tolerance in the society through host of activities.
Mashal Foundation also endeavours to bring less privileged and marginalized groups into main stream through social inclusion, creating linkage, giving training and providing opportunities.
With a view to improve the quality of education, Mashal Foundation initiated a project for capacity building of teachers. National educational Leadership Development Program (NELDP) focuses on creating sense of responsibility in teachers and building basis teaching and student handling skills.
Over 6000 teachers have so far benefited from this program in Karachi, Lahore, Peshawar, Islamabad, Bhinbe, Multan, Bahawal Pur, Rahin Yar Khan, Faisalabad and Sargodha